Rejection Letters
We emailed our book proposal and sample chapters for Resumes from Hell to book agents across the country. Our success ratio: 0/1,000,000. As in, not one follow-up inquiry of any kind. The most shocking aspect: all the agents we targeted specifically listed "humor" as one of the book categories they dealt with. But we couldn't get a single laugh from them. They might have been the only group of people who didn't see humor in our material.
As you can see below, we did get plenty of "no thanks, not interested" and other variations on the virtual door of the publishing world slamming in our faces. Sometimes, the best we could get was a message scrawled on our own cover letter and mailed back to us.
We blacked out these agents' names and contact information because our intention is not to single out individuals or agencies for mockery. But we did want to encourage aspiring authors out there not to take "no" sitting down.
If you believe in your material, write the book! There is always a way forward for those with determination and a good subject. The biggest irony? After we went to press, we heard from a publisher that is interested in our title. If we were to contact any of the agents who rejected us and ask them to help broker the deal, the majority of them would fall over themselves to get in there and get their percentage.
So keep on keeping on, and in the meantime, you can vicariously enjoy the many rejections our book got below. We have made our own italicized comments above these letters.
the first of two rejection letters scribbled on our own cover letter.



nice stamp.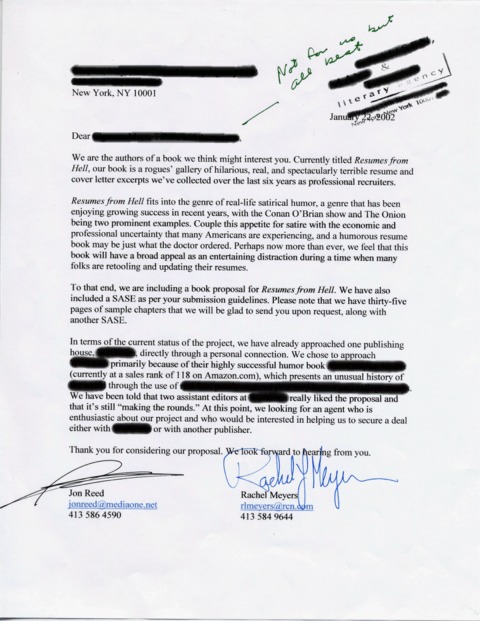 make you look short-sighted? will do.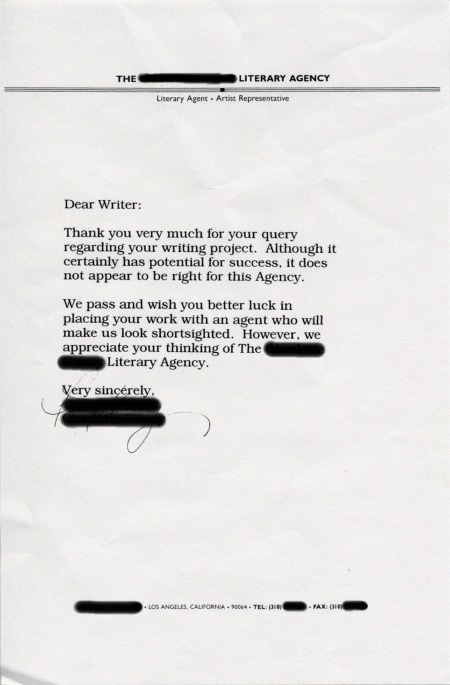 hey, these folks read the materials:
the only non-form letter in the bunch.



signing letters takes time... but we do appreciate frugal paper usage.




we agree: you would not have been successful.



rejected for being "amusing" by an agency that markets humor titles.



a classy letter - only problem is that we read their entire book on proposals
before writing ours. their book must not have been that good after all.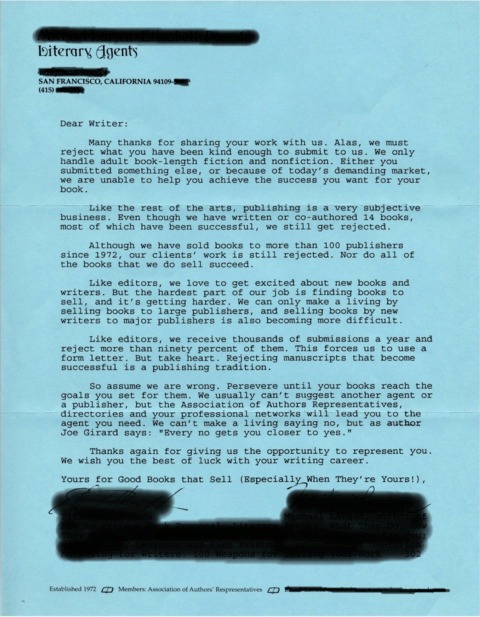 forget "excited" - we couldn't even pull off "interested."



we probably should have let them know that we found them
in the humor section of the literary marketplace.



"not quite right" was a horse pill. but at least they were able to
clear off their desk.